"Back-Alley Communications," "Wink-Nods," Golf Culture & Bad Coaching
June 11th, 2020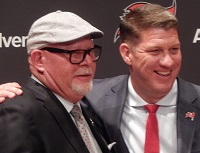 What really were the steps that led to our beloved Tampa Bay Buccaneers signing the greatest quarterback of the modern era?
A legendary offensive linemen has some ideas.
Soon-to-be Hall of Fame left tackle Joe Thomas (11 seasons, 10 Pro Bowls) is confident, so he told The Rich Eisen Show yesterday, that there's a lot more to the Tom-Brady-to-Bucs story than has been told and it'll probably take 10 or 15 years for the truth to come out.
Thomas referred to "back-alley communications" and "wink-nods" and the Bucs' active desire to score Brady while Jameis Winston was still at One Buc Palace. Thomas can't wait to hear the real story.
As for Brady's success in Tampa, Thomas says the only thing that should be able to slow down Brady and the Tampa Bay is bad coaching and scheme, but he said that should be zero concern with Bucco Bruce Arians in charge and "an underrated defense."
Thomas laid a load of blame for the Bucs' 2019 struggles on America's Quarterback, backup Jameis Winston.
Regarding alleged Bucs covert dealings, Joe will point to Clyde Christensen telling TheAthletic.com writer Bob Kravitz about the moment the Bucs learned Brady would come to Tampa.
Think long and hard about this. Free agency just opened (allegedly) and, per Christensen, the Bucs' key decision-makers are on the golf course? The golf course?
What was it like when you learned that Brady had chosen to come to Tampa?

OK, so we were playing golf, we were on the ninth hole at (Tampa's) Old Memorial, on a hard par 5. Our GM (Jason Licht) gets off the phone and tells us the thing's been agreed upon. There's Bruce in his Kangol hat, looking as cool as always, he gets up there, rips a couple of perfect 3-woods and knocks in a 30-foot putt for birdie. Can you believe that? Everything I've seen, everybody I've talked to, they tell me he (Brady) just makes people better. That's what the great ones do. The cafeteria gets better. The equipment room gets better. The coaches get better. I don't know if it's necessarily a second act as much as it's a new challenge for him. It's going to be great to get started. I'm ready. There's only so much golf you can play.
Perhaps next year Bucs honchos will go bowling at Pin Chasers when the free agency dinner bell rings. Maybe a little fishing or perhaps a pottery class.
Like Thomas, Joe is eager to hear the full story of the Brady signing one day.