The RoJo-Brady Relationship
May 16th, 2020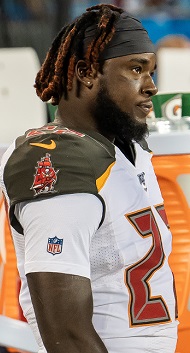 Lots of X-factors to the Buccaneers' success in 2020.
Joe's thinking about one more than others today.
Last year at this time, it was Operation Stroke Ronald Jones at One Buc Palace. Seemingly everyone with an important voice was talking about how impressed they were with Jones in no-pads practices.
It felt like a clear effort to prop the guy's confidence after a brutal rookie year.
Then came very mediocre regular-season play from RoJo — which represented a vast and encouraging improvement! — until he reached a higher level during the final two games of the season. In all, RoJo had just 80 carries in the final 8 games (ousted Peyton Barber had 71) and Arians said after the season that RoJo is not in the plans for third down going forward. But GM Jason Licht says he's expecting another year of big improvement from his 2018 second-round pick.
It's all a bit perplexing as 22-year-old RoJo is now the most experienced running back on a roster that has Super Bowl dreams and expectations.
Joe wonders how Jones will handle the pressure of being asked to lead a running backs room and deal with the immense pressure that will come from Tom Brady. The Bucs' new QB knows he'll have to make the most of every training camp minute after losing a spring with his new teammates.
Joe keeps listening to Boston sports radio and hears how brutally tough Brady is on his running backs and receivers. If/when that fire and ire comes RoJo's way, will he handle it well?
Patriots running back Rex Burkhead was asked recently on Boston radio whether Brady screamed at him. The host's thought was that maybe Brady went easier on him since Burkhead was a fifth-year player upon arriving in New England.
Burkhead laughed and said, "We got corrected," and noted that's Brady's leadership style is to get on players.
Wes Welker was a little more candid about his early days in New England, noting he wanted to fight Brady.
The Bucs treated RoJo like he was a somewhat fragile ego/personality last year, so Joe sure hopes he's up for the radical change coming his way.