Keyshawn Johnson: O.J. Howard Is Better Than Rob Gronkowski
May 17th, 2020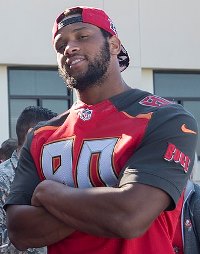 The Bucs' go-to receiver during their Super Bowl season, Keyshawn Johnson, the No. 1 overall pick in the 1996 NFL Draft, isn't crazy impressed by the Buccaneers signing Rob Gronkowski.
Keyshawn works for ESPN these days, including as a daily sports radio morning host in Los Angeles.
When the Bucs signed Gronkowski, Keyshawn was adamant on ESPN Radio that defenses won't shake in their pants and will wait to see exactly what Gronkowski looks like in Bucco Bruce Arians' system before they start game-planning for him. He'll have to earn back a lot of respect, Keyshawn said, because Gronkowski looked like a shell of himself during the 2018 season before his retirement.
But perhaps most interesting was Keyshawn putting his foot down insisting O.J. Howard is a better player now than Gronkowski, and the Bucs just need to figure out how to maximize him.
Keyshawn was adamant that Howard is better and the Bucs would be fools to not use him and Gronk in the red zone. The mismatches created would be there every time for Tom Brady to exploit, he added.
Keyshawn is not concerned about what Brady will bring to the Bucs, saying he'll do a hell of a cleanup job from the messy play of Jameis Winston, but he thinks there will be too much adjustment required for the Bucs to peak under Brady in 2020. So Keyshawn thinks it's a two-year plan in a tough NFC, one that will require Brady to keep the Fountain of Youth flowing for two more seasons.