Bucs New Receiver "Baby Julio" Learned Of His Signing On Twitter
May 7th, 2020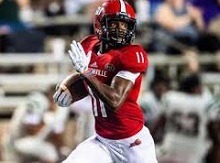 Interesting nugget here from one of the Bucs' undrafted rookie free agents.
This is usually the time of year when undrafted receivers shine in underwear football practices and some fans and media pretend the guys are superstars.
Man, Joe used to take so much grief from various angles because Joe never believed in receiver Kenny Bell, the Bucs' fifth-round pick in 2015. It was as if various media types didn't watch practice and thought just because Bell had a wonderful personality, pretty hair and was Jameis Winston's roommate, Bell was going to catch 45 balls as a rookie. He never did catch a regular-season ball with Tampa Bay.
The Sickness sweeping the world has stolen chances for undrafted receivers to shine in practice like Adam Humphries did alongside Bell in 2015. But Joe was impressed hearing newcomer Jacksonville State receiver Josh Pearson on the Time Skew podcast.
Pearson, a walk-on at Jacksonville State who said he straightened his life out in a hurry after being suspended from football early in his college career, said he had been talking to the Bucs for about two weeks before he got the call to sign shortly after the draft.
In what feels awfully cruel, Pearson said he didn't learn of his Bucs signing until he read it on Twitter and he lost the chance to break it to his family who found out the same way. Pearson said he had Twitter notifications set up and, poof, he learned he was going to the Bucs before a Tampa Bay assistant coach gave him the life-changing call.
Pearson was very productive the last two seasons, racking up big numbers including 30 total touchdowns. But he said the NFL, for him, is about the ability to do bigger things.
"I want to be able to get on this platform," Pearson said. "… I can mentor kids and show them the way. Kids that lost parents. … I want the world to know me for the things I do in the community."
Pearson (6-4, 205 pounds) said he is known as "Baby Julio," and Julio Jones is his role model.
Per NFL.com, Pearson was suspended for bad grades and later said "chasing women" was his downfall. His scouting report there also says he ran a 4.46 40-yard-dash but his true game speed is exceptional.