Noah Spence Excitement Flows From Jason Licht
August 8th, 2019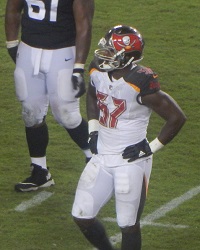 With the No. 39 overall pick in the 2016 NFL Draft, our beloved Buccaneers selected defensive end Noah Spence.
Three years later, the GM who picked him admitted Spence was better suited for a defense different than the one he was drafted to thrive in.
In April, general manager Jason Licht said Spence was really a linebacker who also had value in a 4-3 defense. It was a real "It's A Bucs Life" moment.
Now Spence is in Todd Bowles' 3-4 defense. And after 10 training camp practices, Licht told SiriusXM NFL Radio this week that Spence has found a home.
"Noah Spence, he's thriving in this new scheme right now," Licht said with emphasis.
Tomorrow night's preseason opener in Pittsburgh is a big game for Spence. Carl Nassib is beloved at One Buc Palace. Shaq Barrett, per Licht, is flashing as a pass rusher every single day. For now, the team seems committed to Jason Pierre-Paul. And it seems Bucs coaches have a place in their hearts for William Gholston, like they always seem to do.
If Spence is thriving, then Joe sure hopes he can stand out in the second half tomorrow night against future grad students, mattress movers and rental car agents.