"There's Guys That Wonder What The Hell Just Happened. He's One Of Those Guys That Makes Things Happen."
May 22nd, 2020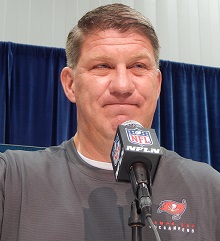 How will Tom Brady impact the Bucs' 53-man roster in limited time?
Bucs general manager Jason Licht touched on that topic a bit during a visit to ESPN TV this week.
When Brady was signed, Bucs officials talked about how Brady would raise the games of all those around him with his extreme leadership nature. But Licht tempered that a bit during his TV visit and said Brady also wants to fit in and isn't coming in with a Lord-and-Savior attitude.
"He is a regular guy. He does want to be one of the guys. He didn't want to come in here and be The Almighty," Licht said. "You know, he just wants to make sure that his players, his teammates respect him. And he's got something to prove.

"He's a natural. I mean, you know he wants to make things happen. There's guys that make things happen. There's guys that watch things happen. And, you know, there's guys that wonder what the hell just happened. He's one of those guys that makes things happen."
Licht acknowledged the ultra-extreme urgency that Brady and 67 1/2-year old head coach Bucco Bruce Arians are bringing into the season. But Licht also said he's not concerned about the effects that might have on younger players unaccustomed to the highest of high expectations for the club.
Joe gets that Brady wants to be one of the guys, but he never will be that with the Bucs this season. There's simply not enough time with the wacky offseason, and it's just unrealistic for a 42-year-old legend landing on a team that hasn't been to the playoffs since 2007.
As seven-year veteran Cameron Brate explained this week, Brady was a boyhood hero of his and he's not comfortable treating him like one of the guys. At least not yet.