Please Let It Be Ruggs
April 23rd, 2020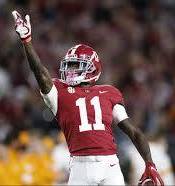 Lifelong Bucs fan and Joe's good friend, Bill Currie Ford general manager Sean Sullivan, happens to be one of the top students of the NFL Draft on the planet. For decades he's been studying the draft year-round in his free time. Sullivan penned a 2019 column here on his must-have draft pick for the Bucs, and he did a fresh one for 2020, plus he offered a clear all-in fix at tackle.
Below Sean explains his top pick for the Bucs in Round 1.
As you know I am all-in for this year's Super Bowl run. So I am looking for instant-impact players who improve our chances from Day 1.
Enter Henry Ruggs. When I first watched his Alabaman film, I was blown away by how much he reminded me of Tyreek Hill.
Let's start with measurables, 5-11, 188 pounds and a 4.27 40-yard dash time. That's nearly identical to Hill but Ruggs show's he's more explosive in vertical leap (2 inches better than Hill) and with a broad jump of 131 inches (3 inches). His "burst score," which combines speed, vertical and broad jump scores, was highest in the class.
Ruggs had 98 total touches in college with 26 touchdowns. He was a game-changer on special teams at returner and gunner.
He's so fast that he's un-guardable and requires safety help at all times.
Would anyone argue against drafting Tyreek Hill at No. 14 overall? How bout a more explosive Tyreek Hill?
Henry Ruggs is a can't-miss prospect.
Please Bucs, we fans deserve a Super Bowl! — Your favorite Ford GM
*Please also add CEH.