Clyde Edwards-Helaire Must Be Picked
April 15th, 2020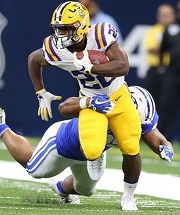 Joe's good friend and Bill Currie Ford general manager Sean Sullivan happens to be one of the top students of the NFL Draft on the planet. For decades he's been studying the draft year-round in his free time. A lifelong Bucs fan, Sullivan penned a 2019 column here on his must-have draft pick for the Bucs.
Please enjoy his 2020 edition below.
BY SEAN SULLIVAN
As Bucs fans we have endured years of mediocrity at the running back position. We strive for 4 yards a carry and an occasional goal line touchdown.
Why have we settled for this as a franchise?
Every Sunday I see winning teams enjoy watching electric plays from their running backs as they control the line of scrimmage while maintaining their leads. It's time we stepped up and drafted our franchise running back and his name is Clyde.
He is the best all-purpose running back in this class, and he succeeds at every aspect of the position, including pass protections for our new Hall of Fame quarterback Tom Brady.
A true three-down back that never has to come off the field, that's the outlet Brady needs.
The Patriots had 4 of the top 50 receiving backs since 2001: Names like Kevin Faulk, James White, Shane Vereen, Danny Woodhead, and Dion Lewis were made Super Bowl champions – and household names — because Brady loves his all-purpose backs.
Add Clyde Edwards-Helaire to the list for 2020.
His 2019 stats LSU stats were 215 carries for 1,414 yards and 16 touchdowns on the ground, plus 1 TD from 55 receptions and 453 yards. He produced in 2018, as well.
Those 55 catches his senior year make him the perfect complement for the Brady-Arians offense.
My NFL comparison is Maurice Jones-Drew with better hands. — From your favorite Ford GM.