"I Live Like I'm Sick"
April 8th, 2020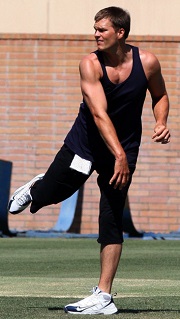 Tom Brady spent two-plus hours on The Howard Stern Show this morning and was given a chance to address the nation about the plague circling the globe.
He didn't exactly go the politically correct route.
And good for him.
"Why are we so immunosuppressed all the time?" said Brady, speaking about Coronavirus.
"I live like I'm sick," he added, noting people should always focus on health all the time.
Brady went on to say stress from watching TV news coverage of COVID-19 also hurts the immune system and he recommends more focus on family, friends and fitness, and presumably football.
Earlier, Brady had plenty more to say about his personal routines, long-standing vitamin regimen and diet, and his desire to help people avoid injuries via his training company. He even added that he would be working out immediately after the interview and hoped to be inspired by the tight pants his wife Gisele is wearing.
Hearing Brady today, Joe is wondering how very much kicking Father Time's ass in the NFL motivates Brady, in addition to wanting to show the football world he can still be the best.
"I'm definitely not a freak. I think that's a big misnomer," Brady said of playing so long at a high level. Brady says he had to learn how to take care of his body and was never a special athlete, adding he's in specifically great football shape and basically only trains for that.