The Financial Power Of Brady
April 8th, 2020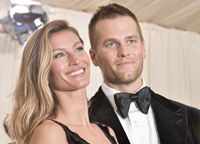 One interesting highlight of Tom Brady's appearance with the "King of All Media," Howard Stern, was about money.
Stern at one point told Brady he's getting taken to the cleaners on his salary adding that he should think about how much cash Team Glazer is going to pocket solely because Brady is on the roster.
Stern, as usual, has a solid point. And miraculously a few moments later, Ian Rapoport of NFL Network, offered an example of Brady's financial power.
Seems like Bucs gear and Brady's Bucs gear, in particular, are flying off the shelves.
Speaking of Tom Brady, info on the #Bucs uniforms from @Fanatics:
— More TB merchandise was sold yesterday than the previous 17 days combined
— Sales of Brady's merch spiked over 3,000% day-over-day
— Brady is top-selling athlete across all sports and Bucs are top-selling team

— Ian Rapoport (@RapSheet) April 8, 2020
Joe has no idea what cut owners get off the top for gear sales. But if this is a sign of how much Brady will generate revenue the next two years, Team Glazer has to be chuckling as they lounge on Ed Glazer's back patio and Ed orders the help staff to get another round of Tanquerey and Schweppes on the rocks for his brothers.