Tom Brady Talks About Slacking Players, The "Shi*ty Argument" And What He "Never Cared About"
April 8th, 2020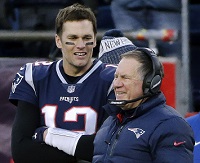 Today's Tom Brady interview on The Howard Stern Show was just what Joe expected today.
Two-plus hours on all kinds of subjects, most of them personal.
A few football leadership nuggets were especially interesting.
Brady was asked about whether he gets in the face of slacking players and screams at them to shape up. Brady said he doesn't do that kind of thing but said he would tell Patriots coaches about a failing or slacking player. "I don't have any trust that this guy will help us win a game," he said, adding that he would not throw to a receiver he didn't trust.
On why he doesn't get on a player after a game for screwing up a play, Brady said, "People don't want to f*ck up." … "My leadership is more about connecting with someone, not calling them out in front of my teammates."
Brady was no fan of the famous is-it-Belichick-or-Brady debate. "I think it's a pretty shi*ty argument," Brady said of those who say he wouldn't succeed without Belichick and vice versa. He emphasized that Belichick couldn't do his job and Brady couldn't coach.
Asked about why he went to Tampa rather than retire as a Patriot for life, "I never cared about legacy. I couldn't give a sh*t. … That's not me. That's not my personality."