"Now It's More Strategic"
March 21st, 2020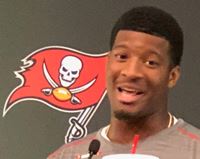 Who will take former America's Quarterback, Jameis Winston?
It's a great question. And no, Joe doesn't think Jameis will entertain the notion of a baseball career.
As of now, he's obviously unwanted as a starting quarterback in the NFL.
Former Bucs rock star general manager Mark Dominik laid out his view of Jameis' potential starting options this week on SiriusXM NFL Radio.
The long shots, per Dominik, is Detroit if Matthew Stafford's back isn't right, and maybe Jacksonville brings in Jameis to compete. And Dominik thinks the Los Angeles Chargers could be Jameis' best bet for a starting shot but only if the NFL Draft doesn't net them the quarterback they desire.
"I think Jameis is going to have to be on that one-year [contract] watch; it may be a very humbling financial year for him," Dominik said.
"So now it's more strategic … Go to a coach you think is going to make you a better player whether you get to be on the field or not. And I think that maybe that's where Jameis has to start thinking instead of saying, 'I want to go compete because I deserve to be a starter.' Well, again, we're at a weird time in the National Football League."
There just aren't enough openings, Dominik said, who added he's hearing and believing Andy Dalton will land in New England.
As for what Jameis might earn? "It's nowhere going to be near the contract you thought or ever considered," said Dominik, who noted he took a bit of a beating for saying in November that Jameis shouldn't and wouldn't be paid $21 million. For the record, Dominik also said on Dec. 13 that he believed the Bucs would franchise-tag Jameis.
It seems Dominik, like many fans and observers, including Bucco Bruce Arians, never thought Jameis would raise his play greatly in midseason and then tank his final two games.