Dominik: No $21 Million Market For Jameis; Bucs Could Expect Leverage
November 24th, 2018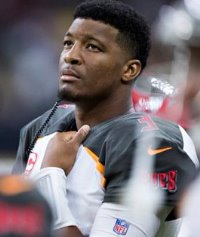 Some pundits think America's Quarterback, Jameis Winston, would be the hottest free agent on the market if he were cut loose by Tampa Bay after this season.
But at what price? Former Bucs rockstar general manager Mark Dominik weighed in.
Speaking on WDAE-AM 620 this week, Dominik said he believes Jameis will be auditioning from here forward for his Buccaneers future. And if Jameis looks good for a couple of games, Dominik said the Bucs could move on a chance to sign Jameis quickly to a one-year contract for 2019 — after tearing up his fifth-year option that's set to pay him $21 million next year.
Why tear up the 2019 option? Because they'd be overpaying.
"I think they're going to try to hold on to Jameis now; let him play through this and kind of get a better sense of what they want to do with him. Because remember, just because he has the fifth-year option, it's not fully guaranteed yet until the new league year [in March]," Dominik said.

"There is a chance that the Buccaneers and their mentality could be to go to Joel Siegel, his agent and go, 'Hey, look. We realize what the fifth-year option is, this number [$21 million]. No one's going to sign Jameis for that number. Just so you guys know. We all know no one is going to sign him [at that price]. So we'll do a one-year deal for you at X. And we'll give it one more year to kind of see where it goes. And you get to be the free agent at the end of [2019], so it's just a one-year deal. But if I say I'm not going to pick it up, you're not going to make that much money.'

"And I truly believe that in my heart. Not that I don't like Jameis or don't want him to have success, it's just most clubs right now if you look around the league, there's not many clubs that say, 'I don't like my quarterback situation.' Or they're going to look toward the draft and say, 'I think I can get my quarterback there.' And so that's where I think you've got a little bit of leverage over Jameis right now …  to talk to his agent about just maybe a one-year deal at a lower number."
Dominik has plenty of friends in the league and loads of sources, including at One Buc Palace. So Joe finds it very interesting that Dominik thinks nobody would pay Jameis the going rate for an average starting QB.
Perhaps the pending civil case (Jameis is being sued for sexual assault in Arizona) is a factor?
One question that's rarely considered is whether Jameis wants to stay with the Buccaneers. He may very well be advised to get a fresh start, and he might want one.
---
No snoozing on TAMPA TWO. Buccaneers legend Derrick Brooks brings the video juice to his preview of the Bucs-49ers game with Ira Kaufman. Plenty of other Bucs chatter, too. Brooks is lit!
TAMPA TWO is a twice-weekly production of The Identity Tampa Bay with JoeBucsFan.com, presented by Caldeco Air Conditioning & Heating.