Jameis Says Goodbye
March 21st, 2020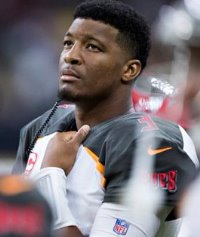 Jameis Winston has taken to Twitter and has a message — a Super Bowl message.
The unemployed America's Quarterback publicly acknowledged this morning that he won't be wearing pewter and red in 2020. He also made it clear that he's got his eyes on playing in Super Bowl LV, which will be played at the Den of Depression in February 2021.
Perhaps more statements are coming today from Jameis, some that will express his love of Bucs fans, teammates, coaches, ownership and the business community that supported his charitable endeavors.
Or perhaps not.
Joe wishes Jameis well.
It's been a great 5 seasons as a Buccaneer. All love and respect, I love Tampa and I look forward to seeing y'all again in February. #SBLV #2020Vision #Dreamforever pic.twitter.com/MIPiCfreXW

— Jameis Winston (@Jaboowins) March 21, 2020