Devin White "Is Good For Us"
January 13th, 2020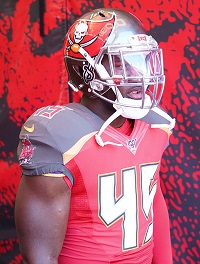 Many players known for leadership have found their way to One Buc Palace over the years.
Joe remembers how former rock star Bucs general manager Mark Dominik was really into drafting college team captains, and Greg Schiano was all about landing the mythical "Buccaneer Man."
Jason Licht has adopted elements of those approaches, too.
But frankly, the Bucs incessant losing has gotten Joe very down on all the talk of leaders.
America's Quarterback, Jameis Winston, was supposed to be the guy, the great leader of men, and he's not. Yes, Jameis has leadership qualities, but overall he gets the same lousy leadership grade Gerald McCoy deserved.
But what about the new lead dog on defense, savior linebacker Devin White?
Bucs players appear to appreciate his leadership and presence, so maybe he will become the transformative force in that area.
Level-headed, hard-working Chris Godwin is impressed, so he told the official Buccaneers website.
"He's kind of like giddy," Godwin said of White. "I'm just like walking around. I'm chilling. And like every time I see Devin, 'Hey C.G., we got practice today, bro.'

I'm like, 'Yeah, I know, Devin.' He's like, 'I'm trying to be real like you.'

"Having a young guy like that who's so passionate about being great, I think it's going to be really good for us moving forward."
Joe is not the jaded old goat many believe Joe is.
Joe is still capable of being hopeful. And again, maybe White can be that guy capable of imposing a winning will in a locker room and having a zero-tolerance policy for nonsense.
For those who think Jason Pierre-Paul is that guy, keep in mind how Brent Grimes was not held accountable in 2018 and was allowed to drag the defense down.