"That Just Fu***d Up My Whole Vibe For The Whole Year To Be Completely Honest"
January 3rd, 2019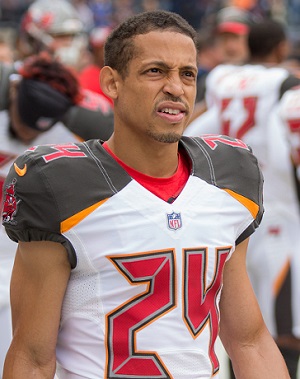 Brent Grimes has opened up about the 2018 Buccaneers, and it's ugly.
Speaking on his wife Miko's latest podcast, iHeartMiko, the Grimes couple went game by game breaking down the cornerback's performance this season.
The point was to show Grimes played a lot better than people think he did. Brent Grimes was very candid about good plays and bad as a pass defender.
He also talked about his run support and how defensive backs coach Jon Hoke and he were at odds for years on how to play the run. It was a lot of Xs-and-Os chatter about how Hoke's way of playing the run clashed with what Grimes had been taught previously. Grimes said he often got bad run grades from coaches even when he made a play.
But what really was interesting was Grimes talking about how he felt he was disrespected by the Bucs during contract negotiations last offseason.
In March, he signed for $7 million plus incentives on a one-year deal. It was ok, Grimes said, even though lesser NFL corners were earning more.
After being injured and missing the first two games, Grimes returned against Pittsburgh on Monday Night Football. The Bucs were 2-0. He said he got upset before that game because Bucs coaches asked him to shadow Antonio Brown all game.
"We get to the Steelers and then they start asking me to follow people," Grimes said, explaining that corners "that follow receivers all the time"  … "earn $13 to $15 million."
Grimes said the Bucs wanted him to shadow all No. 1 receivers and he felt it was a slap in the face because they weren't paying him for that.
"That just fu**ed up my whole vibe for the whole year to be completely honest," Grimes said.
It was unclear whether Grimes refused to comply.
Joe is in full head-shake mode. So Grimes signed a one-year deal as the Bucs' No. 1 corner and he didn't want to cover top receivers?
Congratulations, Jason Licht. You screwed up on another free agent.
Grimes also explained on the podcast that he told Bucs coaches he wanted to sit out the season finale last Sunday because he was so frustrated by Hoke. Coach Hoke apologized, Grimes said, and Grimes eventually played.
Miko Grimes said she helped convince her husband to play in the game because she knew it might be the last of his career. Miko added that she'd like Brent Grimes to play one more season for any price, as long as he's having fun and has a shot at the postseason.