The March To $100 Million Guaranteed
November 24th, 2019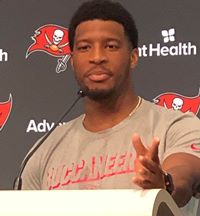 Dollar signs must be dancing in the head of America's Quarterback, Jameis Winston.
Six games from now, Jameis could be poised to pull in a market-value contract of at least $100 million guaranteed.
But there's a big catch, Jameis must stop turning the ball over at his torrid pace, and he likely has to deliver five strong games out of six. Whatever anyone thinks of Jameis, the reality is that he will command a fortune if he pulls off a fantastic finish to the season.
Sure, the Bucs could slap a franchise tag on Jameis for 2020 that would pay him around $27 million, and at any time the franchise tag can be ripped up and a new contract signed, but when's the last time franchising a quarterback worked out?
Joe assumes Bucco Bruce Arians and Team Glazer have yet to decide on Jameis' future in Tampa. One would think if they had, either Jameis would be benched already or a Bucs official would have gotten the word out that he'll be here next season.
So Joe can only conclude Jameis is playing for a contract with six games to go.
And the fun thing is that Jameis knows it. The playoffs are lost, but how will Jameis rise to the pressure of his career being in the balance? This should a better reality miniseries than Hard Knocks.