Bigger Game For 5 Buccaneers
November 24th, 2019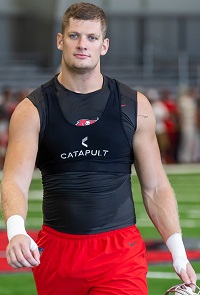 Today's game in Atlanta means a little more for certain Buccaneers — for a variety of reasons.
Here's a quick look:
Carl Nassib:  The linebacker/DE returns after missing two games with groin injury suffered early against the Seahawks. Bucco Bruce Arians blamed all the Bucs' travel, but the rest of the NFL won't buy that. In a contract year, Nassib has three sacks and was coming on in his last two games. With six games to play, Nassib is playing for a lot of money in 2020. Young pass rushers always get paid, and 26-year-old Nassib will cash in if he can find his way to another 6 1/2-sack season.
Jamel Dean: When you're a rookie cornerback and your head coach goes public and says coaches should have played you a lot more in the last game, then the game that follows is a big one. Today would be terrible time for a clunker from Dean.
Ronald Jones: Joe wants to be sure Jones' confidence is intact. He only got four carries last week after a fourth-quarter fumble/turnover against the Cardinals. The Bucs' painted him early this year as a guy with a confidence issue. So Joe thinks a bounce-back game now is critical to his development.
Mike Evans: With seven more yards receiving, Mike Evans will have 1,000 yards again for the sixth consecutive season. If it wasn't special, it wouldn't just be Evans and Randy Moss with that distinction. Joe hopes Evans gets it early in the game — very early.
Todd Bowles: At some point, Bowles must be accountable for his horrible defense. In addition to coaching, Team Glazer knows Bowles had a strong voice in picking players. Bowles has faced Matt Ryan as a coordinator in Arizona (the Cardinals got torched) and as a head coach with the Jets (better showing but a Falcons win). There should be no learning curve. He's also coached against Dirk Koetter's offense, and he's got all kinds of help from Tampa Bay players when it comes to Koetter's offense. Today is going to tell Joe a lot about Bowles.
---
BUCS-FALCONS PREVIEW FROM DERRICK BROOKS & IRA KAUFMAN. An all-new TAMPA TWO, presented by Caldeco Air Conditioning & Heating.