Stop The Travel Excuse
November 5th, 2019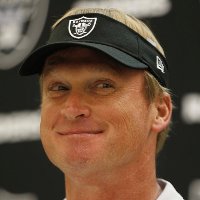 Chucky's Raiders opened the season at home against the Broncos and Chiefs — and they didn't return home until seven weeks later against the Lions on Sunday.
Sound familiar?
Joe doesn't hear travel excuses coming from Raiders camp. Why are they coming from Bruce Arians?
Joe has punched several walls and thrown a few keyboards hearing Arians say multiple times this week that Carlton Davis' pulled muscle before Sunday's loss in Seattle, and Carl Nassib's in-game groin issue, among other team problems, likely have something to do with all the Bucs' travel catching up with them.
Joe might have had a shred of empathy, even though Joe's not buying the travel excuse. But the Raiders had a very similar brutal travel schedule this season. So stop the excuses.
In Week 3, the Raiders hit the road for Minnesota and then Indianapolis. Week 5 sent them to London to face the Bears. After a bye week, Oakland was off to Green Bay and Houston, before hosting the Lions two days ago. That mirrors the Bucs' grueling stretch away from home.
The Raiders sit at 4-4, and they shook off the Antonio Brown debacle, and now they have to tax their bodies even more with this week's Thursday night game against Los Angeles.
Chucky is getting chatter as a Coach of the Year candidate and Joe suspects Chucky won't blame travel for anything. He's actually talked recently about how being road warriors has benefited the Raiders and he's joked that every team in his division should get a chance to fly all over the place for seven weeks straight.