Going For Two
November 5th, 2019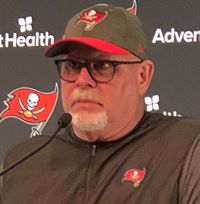 Yeah, the Bucs lost a close game at Seattle. And some are suggesting math tells them not to go for two when the Bucs scored a late touchdown to pull within one.
But math never, ever factors in the human body. Arians after the game mentioned how his defensive backs were out of gas.
If Arians knew this, types Gary Gramling of SI.com, then he should have gone for two to to potentially take a lead by a point.
Boy, I Wish Bruce Arians Had Gone for Two: After the Bucs pulled to within one in the final minute in Seattle. Their defensive backfield looked completely gassed by the fourth quarter and had no chance of stopping the Seahawks in the event Seattle won the overtime toss (which, of course, they did).
So did Arians set up his team to fail by not going for two? Perhaps.
Exhaustion or not, the root of this problem was the Bucs' refusal to upgrade the secondary before the trade deadline when the team still had a prayer of making a wild card run.
When Carlton Davis went down before the game, that meant the Bucs had to rely on a rookie who had never played a full game, Jamel Dean. And if he wasn't in shape, then why not? Isn't one of the responsibilities of a team is to make sure players are in shape?
Joe didn't hear any whining from JPP for playing so many snaps and this dude just came back from a broken neck!