Doghouse?
October 29th, 2019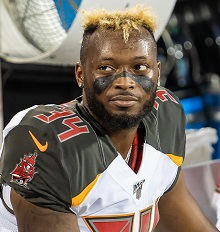 Remember safety Mike Edwards, the rookie safety Todd Bowles was so high on?
He didn't play against Carolina in England. Officially, he was active for the game but was kept out because of concern for his recovering hamstring, but Joe wrote on these pages that Joe was not buying it. The rookie was benched for Andrew Adams.
Well, Edwards was not on the injury report last week and he played just one defensive snap Sunday in Tennessee. He didn't play at all on special teams.
Remember, Adams was evaluated by the Bucs and they didn't bring him back this offseason. Then, Detroit cut Adams at the end of August, and after around 10 days of unemployment later he was back in a Buccaneers uniform. He's not someone who should be beating out Edwards.
Something is going on with Edwards. At least fellow rookie third-round pick Jamel Dean plays special teams.
On Sunday, 2018 second-round pick M.J. Stewart was inactive for the game. The Bucs cornerbacks actually on the field had an unimpressive day — again.
Joe wrote before the season that Bruce Arians would need at least one of his three rookie defensive backs to have a great season for the Bucs to be successful. It hasn't happened, and it's downright scary that the position was a major Bucs priority in the draft.