Bucs Two-Minute Drill: 2 Fumbles, 1 Terrible Drop, 1 Crushing Holding Call, 3 Consecutive Penalties & More
October 14th, 2019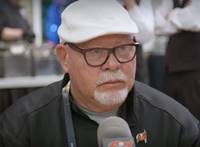 The Bucs filmed an ugly football video on how not to close a half yesterday.
In a span of two minutes, there was the Jameis Winston no-throw/fumble, followed by Jameis holding the ball way, way to long and getting strip-sacked on the next play. That was followed by a great stop by the Bucs defense, before Bobo Wilson fair caught a punt with a load of room in front him.
The Bucs offense recovered in a rhythm before Ali Marpet's clear holding wiped out a big first down to Mike Evans. That was followed up by Jameis unleashing a tremendously well-thrown bomb 56 yards in the air to Evans, who flat out dropped the home run ball that hit him stride.
After an incompletion on the next snap, the Bucs had three consecutive false start penalties while trying to execute a punt. Yes, you read that correctly.
That marched the Bucs backwards and led to Bradley Pinion's eventual punt being fair caught at the 50 yard line, where Carolina was then allowed a "fair catch" kick, a free kick to close the half that is best explained as a field goal attempt with no defense or snapper. Thankfully, the kick wide right.
Joe has never seen such a display of football ineptitude in just two minutes, though again, the Bucs defense did have a strong stop mixed in there.
Do the Bucs look well coached to you?