"We Underestimated His Speed"
September 24th, 2019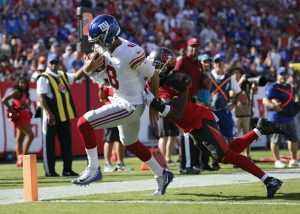 Giants quarterback Daniel Jones ran for two touchdowns in their comeback win against the Bucs on Sunday at the Den of Depression.
The rookie surprised the Bucs in one specific way, Arians said via Buccaneers Total Access tonight.
"We underestimated his speed," Arians said, while referencing a couple of Jones runs. One was Jones' first touchdown scamper, when he outran cornerback M.J. Stewart, who had a clear angle to drill Jones but couldn't catch him.
Arians' "underestimated" line was a bit disturbing, but it also illustrates why it's so dangerous to play a rookie QB making his first start. You just don't know a guy's NFL speed until you really see it — and preseason isn't the same as the real stuff.
Speaking of NFL speed, Stewart a 2018 second-round pick, has looked faster this season than last year. But he appeared slower on Sunday.
Stewart is a sure tackler, but man, it just doesn't seem like he has that quickness you want in a nickel cornerback. And Joe's not seeing him as the effective blitzer the Bucs want in the nickel position, primarily because of his speed.