Safeties Coach: M.J. Stewart Is A Nickel, Top Blitzer, Compares Him To Tyrann Mathieu
May 1st, 2019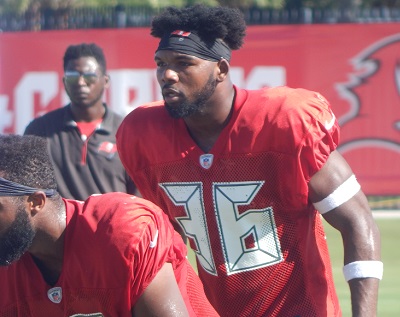 Joe is a bit confused after talking with and listening to Buccaneers defensive coaches this afternoon.
Longtime Bruce Arians friend and Bucs safeties coach Nick Rapone was at the podium talking about roles and functions within the Todd Bowles defense. Rapone spent five years as defensive backs coach in Arizona with Arians.
General manager Jason Licht said two months ago that M.J. Stewart is moving to safety. It was quite a proclamation about the Bucs' initial second-round pick in the 2018 NFL Draft. Stewart was drafted as a cornerback but looked too slow for the position.
Rapone said today that Stewart will get every chance to win the nickel cornerback job, which is up for grabs.
"We're going to attempt to put M.J. [Stewart] at nickel position and then play [him at] some free safety. M.J.'s never played safety, so it's going to be a learning process," Rapone said.
Rapone expanded on Stewart and the nickel role.
"In our system, the No. 1 person that blitzes is the nickel. He is a physical player. He was a rookie. There is a learning curve. Our nickels have to blitz. Our nickels have to play man-to-man. He has the innate skills to play man to man; he's physical enough to blitz. So we're basing it on what he can do based on what we saw."
Asked if Stewart has enough quick twitch and speed to succeed, Rapone was candid and compared him to a true superstar.
"Enough of it at the nickel, not at a corner, but at the nickel. Because remember, the nickel a lot of times is the guy that's protected. And you can always double with the nickel. But that nickel also has to play run support. He's a very good special teams player; he's a physical kid. And the nickel in our scheme has to be physical, not finesse.

"Like the Honey Badger [Tyrann Mathieu], everybody talks [about him], he was physical. He would throw is body around. We are looking at M.J. as the same type of player."
Lots of Bucs coaches today talked about raised expectations. When it comes to Stewart, they aren't kidding.