TV Map For 49ers-Bucs
September 7th, 2019
It appears a lot of Bucs fans across the nation won't get the Bucs-49ers game on free TV as the 2019 season begins.
Shoot, even Bucs fans in Orlando are getting jammed!
It appears as Joe is typing this post, only Bucs fans locally and in the Fort Myers and Tallahassee TV markets will get the broadcast on free TV via their local FOX affiliates to watch the Bucs host San Francisco. All other Bucs fans in the Sunshine State, march to the sports bar!
As one can see, the Giants-Cowboys game will dominate the nation.
Hollering Kenny Albert and Ronde Barber will be behind the mic for the Bucs broadcast. Of course, Joe always recommends taking in the Bucs game and the full slate of NFL action at Abe's Place in Clearwater. The menu rocks.
As always, the map is courtesy of 506sports.com.
FOX Late-afternoon broadcasts.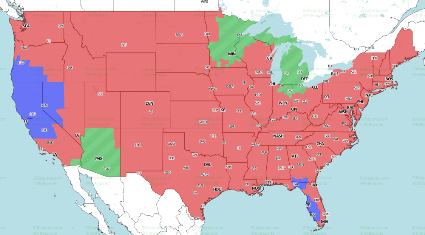 Blue: San Francisco @ Tampa Bay.
Red: NY Giants @ Dallas.
Green: Detroit @ Arizona.