"Just One Of Those Days"
September 7th, 2019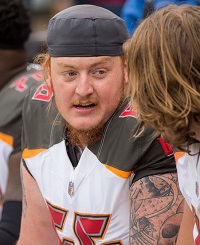 Ask Bucs fans what scares them about the team and there are a few popular answers.
While some fans are fearless about the roster and say the Super Bowl journey starts tomorrow, others have a quick but counter answer.
The offensive line. That answer is fully fueled by the total debacle two weeks ago against the Browns. Five sacks in one half, plus a few I'm-sorry moments in the huddle for right guard Alex Cappa. And some that-won't-happen-agains by other O-linemen.
Bucco Bruce Arians summed it up succinctly for San Francisco-area media yesterday, per the Mercury News. "Just one of those days," Arians said, adding that he would be concerned if the offensive line hadn't been consistently solid outside of that — in practice and preseason games.
Arians also freely told the Niners media that Jameis Winston sacked himself twice in that game.
Frankly, Joe is more worried about the latter than the former. Jameis is giving up sacks (different from taking a sack) is unacceptable for a veteran quarterback. And those situations often lead to fumbles, something Jameis has been very good at in recent years.
Was it really "just one of those days" for the offensive line? A lot of fans are waiting on that answer, which will be in hand after two games next week against savagely talented defensive lines.