"He's All Over The Place Now"
August 14th, 2019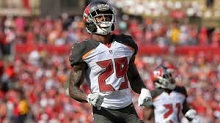 According to one Bucs legend, a forgotten and naughty Buccaneer is now turning heads at One Buc Palace.
Yesterday was Ronde Barber day at team headquarters and sat down with Joe, Sage JoeBucsFan.com columnist Ira Kaufman and a handful other media following the days' public festivities for a casual, on-the-record chat for nearly 40 minutes.
Lotta meat on that buffet.
Barber talked a lot about how Todd Bowles' scheme is very difficult to decipher for quarterbacks. He explained how studying Bowles' defense frequently leaves a savvy film guru like himself wondering what he just looked at.
Regardless, "every single ball is contested," Barber said of defensive back play in Bowles' system and that is liberating Ryan Smith and others. Barber said Smith has caught the attention of Bucs' scouts.
"He's all over the place now," Barber said of Smith in training camp. "[The sytem] conducive to making plays on the ball because there's always the threat of pressure. So the ball is never going to come out on time. Can't hold the ball; it's gotta come out.

"I say that and in the preseason game [in Pittsburgh], the two touchdowns, the [Steelers] quarterback held the ball forever. But it'll be exciting."
This bodes well for Smith's chances of sticking on the roster, despite his four-game suspension for using a banned performance-enhancing substance. It's also a reason Bucco Bruce Arians included Smith when he said the secondary was "totally fixed."