"It's Totally Fixed"
May 31st, 2019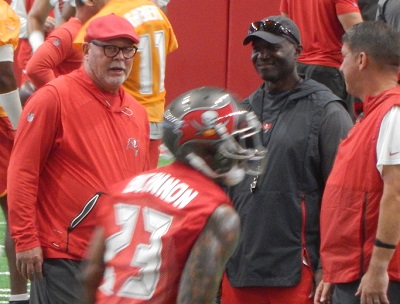 The biggest and most uplifting Buccaneers news of the day was delivered by Bucco Bruce Arians.
What a glorious day this is.
Arians was hit with a very simple question after practice. A reporter asked him to name a position, following 10 days of OTA sessions, that jumps out and makes Arians say, 'We're not as bad as we thought at that position.'
The head coach had a quick answer.
"Yeah, probably secondary, we're really, really good," Arians said with extra energy in his voice. "With Carlton [Davis] and Vernon [Hargreaves], we knew we had two solid corners. Now we got five solid corners. Ryan [Smith] came along. So yeah, earmarked as a problem set back in January, it's totally fixed. Just knock on wood they stay healthy."
Bucs fans should sleep very, very well tonight. Carlton Davis, Vernon Hargreaves, Ryan Smith and a couple of rookie corners have the complete confidence of Arians' accomplished staff.
Joe might even start drinking early.