Arians: "We're Going To Be The Best In The Last Five Or Two" Minutes
August 17th, 2019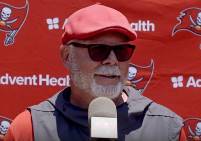 The sweet smell of victory was wafting through the Buccaneers' locker room last night after one long preseason game played hard to the final seconds.
With roughly 30 seconds left, the Bucs offense behind Ryan Griffin and Tanner Hudson battled against Dolphins camp meat and set up Matt Gay for a winning 48-yard field goal.
Bucco Bruce Arians took note in his victory speech in the locker room, delivered by the official Buccaneers video below.
"We do those mock situations for a reason," Arians tells the team.

"We know we can win games. They're scheduled for 60 [bleeped out] minutes for the reason, because we're going to be the best in the last five or two [minutes]. Whatever it takes to win. That was a great example of it. It's a team game, all three phases. Great job."
High expectations. Refreshing.
Lots of bleeped out words in the video. What a shame. Regardless, it's good for the Bucs to get some love here from Arians. It'll balance out what happens when (if?) they lose.