Exam Passed
August 17th, 2019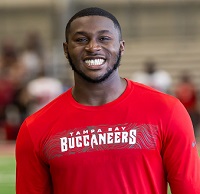 When Bucco Bruce Arians is handing out grades for the past week, there won't be any 0.0 for this Dean.
Rookie corner Jamel Dean had a pick last night, his first wearing an NFL uniform. And to hear Arians talk after the Bucs beat the Dolphins, perhaps Dean is climbing over the learning curve?
And Arians added, maybe it is all in the gloves.
"Man, he had a great week," Arians said. "He drops the pick-six right in his hands, [so] we told him to switch gloves at halftime because those gloves weren't any good and he came up with a huge one."
The development of the rookie corners is going to be key in Joe's eyes. The way defensive coordinator Todd Bowles likes to have defensive backs run around, depth is important. Quality depth, not just bodies.
How quickly Sean Murphy-Bunting, Mike Edwards and Dean can master the NFL learning curve, the better.