"Lot Of Effort, Lot Of Attention To Detail"
June 4th, 2019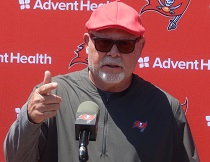 Joe has been impressed by Bucco Bruce Arians consistently saying he's very happy overall with what he sees in practice.
Bucs coaches don't always go there.
But for Arians it's been steady theme, going back weeks ago when he detailed to Joe how he knows the Bucs offense is a quick study. And Arians talked more about the lack of mental errors today for the entire club.
"Really pleased with this practice. Lot of effort. Lot of attention to detail," Arians said after today's opening minicamp session inside the GlazerShed on the grounds of One Buc Palace.

"Defense had some really good moments. Offense had some really good moments. So, the Bucs win. It's never a good one when one side or the other wins the whole practice. But overall I thought it was way solid."
America's Quarterback, Jameis Winston, wasn't perfect, but Arians was very quick to say those throws to the defense were not a problem today.
"As far as throwing interceptions, I want to see where we're throwing ball down the field and learn from it. Do I get upset with interceptions? Always, but not today," Arians said. "We had some new things going in against different coverages, second and third reads, a lot of second and third players that were not necessarily in the right spots. So, no I don't get upset with him."
Yes, it's practice. It's June. But it all starts here and Joe has a feeling Arians would offer a public glimpse of his disappointment if he had one about the team as a whole.