Ditch The Chairs
June 12th, 2019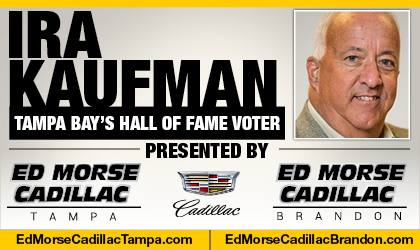 BY IRA KAUFMAN
You spoke and the Bucs listened. Boy, did they listen.
A year after reducing the number of training camp practices open to the general public, the Buccaneers came to their senses and decided to cater to their rank-and-file supporters.
Perhaps Bruce Arians played a role in opening up One Buc Place to the masses. It could have been the Glazers with a directive or Chief Operating Officer Brian Ford with a nudge.
What matters is the Bucs did the right thing.
Instead of only six fully open dates, the general public in Tampa Bay has been invited to view 11 practices as Arians and his staff of 103 assistants try to end the NFC's longest playoff drought.
A year ago, season-pass members, the military and private groups were privy to nine practices, three more than the general public. Now, the Bucs have engaged in a course correction, with a ratio of 11 fully open dates and just four reserved for specific groups.
"Coach Arians, his staff and our players are eager to continue their preparations for the upcoming 2019 season," Ford said. "Our entire organization is eagerly anticipating the start of our 11th training camp at our state-of-the-art training facilities at the AdventHealth Training Center.
"With 15 practices open to the general public and select groups, our fans will have plenty of opportunities to come out and experience the excitement first-hand as we usher in this new era of Buccaneers football under coach Arians."
There is more good news for members of Buc Nation — the covered bleachers are back after being dismantled and tossed in the shed. And with dual workouts slated on two practice fields simultaneously, bleacher bums are assured of a close look at these new-look Bucs.
Details Matter
Jason Licht has said repeatedly that an organization should quickly own up to mistakes on the personnel side and move on. Guess what? The same philosophy holds true on the marketing side.
Buc fans were encouraged to walk around the perimeter of all three practice fields last summer, lugging their own chairs in broiling heat for an up close and personal experience.
It was a noble idea, but it wasn't practical. Instead, Buc supporters will now have it made in the shade when camp opens July 26.
There is one change, however, that involves sweating the details. The days of routinely moving into the indoor facility for the latter stages of practice are over.
Barring a late-afternoon lightning storm, Arians plans on staging his workouts on grass. Above all, he wants to simulate regular-season game conditions.
And although the indoor facility is a wonderful addition to One Buc Place, Arians would prefer to use it only when necessary. Practicing in wet and windy conditions could help this team deal with inclement weather when it counts.
Yes, the details matter.
It's refreshing to see this franchise acknowledge that the bulk of the team's fan base doesn't attend every home game. We all understand the push for season-ticket sales, but that marketing drive shouldn't come at the expense of the casual fan.
Besides, casual fans become season-ticket buyers when circumstances change.
This is shaping up to be an exciting training camp — and the Bucs just made it even more intriguing. That's a win for the fans and an indication this organization intends to be more accessible.
The pads are coming on in late July and the Dolphins will be rolling into town in mid-August for a pair of joint practices. Bring your passion and your optimism to camp.
One more thing … ditch the chairs.