"Volume" Challenge For Jameis
June 12th, 2019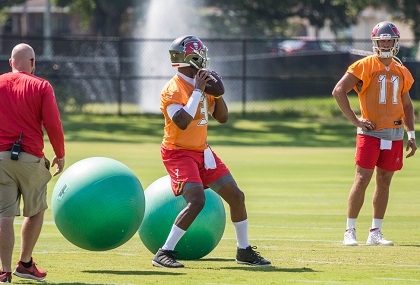 For years Bucs fans have heard a ton about the impressive football IQ of America's Quarterback, Jameis Winston.
Is Jameis an exceptionally smart NFL QB?
Joe's not sure. In order to know that answer, Joe would have to understand exactly why Jameis has thrown so many interceptions and fumbled so many times in his career.
What is clear, however, is that Jameis is learning a new offense for the first time since 2015.
That's no easy feat. And per former NFL player and team executive Louis Riddick, Jameis has a mountainous task on his hands/brain.
"When Carson Palmer was with Bruce Arians in Arizona, he used to talk a lot about how much volume there was in this offense, No. 1, a ton of different plays that they would put in every week. So that's the first thing that Jameis is going to have to go ahead and conquer: try to learn a new offense with tremendous volume," Riddick said on NFL Live on BSPN.
Riddick's "No. 2," was Jameis needing to thrive with the long ball, something Riddick believes Jameis struggles with, because the Bucs can't expect a good rushing attack.
"Can you then take all that volume, make good decisions, protect the football, deliver the long ball, so this offense then becomes explosive being that it doesn't have a very consistent running game or one that they can count on at this point?" Riddick asked.
"Unrealistic" is how Riddick characterized the Bucs' playoff chances in 2019.