"Devin White's Already Taken Over"
May 22nd, 2019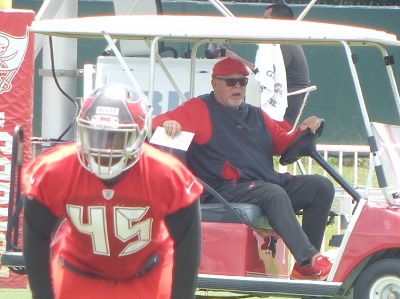 Joe has written many times that Bucco Bruce Arians is counting on rookie savior linebacker Devin White to be a superhero on and off the field — and everywhere in between.
Heck, three weeks ago Arians told that to a national audience.
Safety Tyrann Mathieu, The Honey Badger, walked into the Cardinals locker room as a rookie and instantly was a leader, Arians said on SiriusXM NFL Radio, and that's what he expects from White.
Yesterday at One Buc Palace, Arians again went back to the "it's-White's-team" card.
"Yeah, [leadership] is something that evolves, and it doesn't matter how old you are. Devin White's already taken over – Carl Nassib is one of the best leaders we have, because they're going full tilt all the time," Arians said.
Man, they love Nassib at One Buc Palace, as Joe spelled out in mid-February.
Arians thinks leadership is critical and maybe it is — but perhaps it's overblown.
What's interesting on that front is new Bucs defensive tackle Ndamukong Suh is well known for taking plays off. What happens if White is the strong leader Arians envisions and he gets in Suh's face and calls him out publicly and/or privately?