The Carl Nassib Effect
February 19th, 2019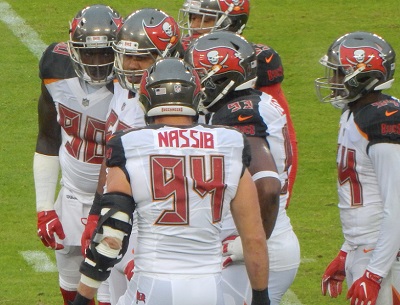 Week after week, game after game, general manager Jason Licht would appear on the Buccaneers Radio Network pregame show with Gene Deckerhoff and rave about Carl Nassib last season.
It wasn't every week, but it sure felt that way.
There was zero doubt that Licht believed he found an absolute steal on the 2018 waiver wire, an oversized, athletic 25-year-old left defensive end (6-7, 275 pounds) who gave a ton of effort and produced.
Some say those guys aren't walking the streets, but Licht found one and was darn proud. Nassib played in 15 games, forced two fumbles and defended a couple of passes, plus he notched 6 1/2 sacks and 12 tackles for loss. He also drew plenty of love from various ex-Bucs for his tenacity.
Joe is not running out to buy a Nassib jersey. Joe is a fan but not a big one. However, this post is about how much Licht loves the guy along with the new sheriff in town, head coach Bucco Bruce Arians. It's at least likely the regime will agree Nassib, with a salary of just $2 million next season, is a starting quality DE with a high ceiling under their coaching staff.
Heck, Joe could envision the Bucs trying to extend Nassib's contract right now to avoid him hitting free agency in 2020 as a young, successful pass rusher. Those guys command a fortune.
If the Bucs truly like Nassib, they'll peg him as the 2019 starter and not mess around at DE in free agency this season no matter who is available. As fans yearn now for upgrades, it's easy to forget how the regime assesses the players is where the answers lie.
Joe has a strong vibe there's a Nassib love affair going on at One Buc right now, with a lot of excitement about how Nassib's salary wonderfully counterbalances the $14.7 million due DE Jason Pierre-Paul this year.