Gerald McCoy Told To Stay Home?
April 16th, 2019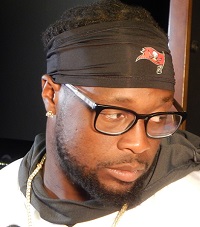 Interesting twist this morning at One Buc Palace.
At his pre-draft news conference, general manager Jason Licht was asked why head coach Bucco Bruce Arians told Gerald McCoy to stay home and not come to the offseason workout program at One Buc Palace, which began two weeks ago.
Licht replied, "you'd have to ask Bruce."
Hmmm. Ok.
Perhaps Arians and Todd Bowles don't want Beau Allen looking over his shoulder? Yes, Joe's being sarcastic.
What a colossal mess. The Bucs have to get an F grade for the way they've handled the McCoy situation, however you choose to define it.