Bad News On Kendell Beckwith
April 16th, 2019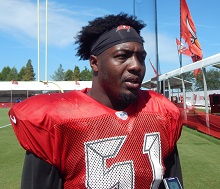 It's been one year since the car accident that messed up Kendell Beckwith's ankle so badly he's never practiced since.
Most of Beckwith's teammates have been conditioning at One Buc Palace for two full weeks but Beckwith is not, so said general manager Jason Licht today at his annual predraft news conference.
Beckwith is not cleared to practice and he and the Bucs are evaluating his condition with specialists. Licht was unclear on whether Beckwith's injury would affect the Bucs draft, but logic says it certainly will.
It feels like ancient history, but Beckwith, the final pick of the third round in the 2017 NFL Draft, played every game his rookie season.
He made 11 starts, including stepping in successfully at middle linebacker when Kwon Alexander was injured in Week 1. Beckwith had seven tackles for loss and 60 solo tackles. The Bucs used him off the left edge but he clearly was out of position there.
Joe wishes Beckwith well.