Credible Reports: Bucs To Open At Home; First 3 Games Set
April 17th, 2019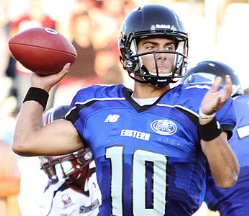 UPDATED 7:10 p.m. – The first legitimate reports/rumors on the Bucs' 2019 regular-season schedule have emerged.
Man, Joe is fired up. The first comes from ProFootballTalk.com, per their NBC Sports Bay Area comrades who cover the "other" Bay area.
Matt Maiocco has noted the San Francisco 49ers will be the Bucs' Week 1 opponent in the swelter that is Tampa on a Sunday in September.
No word on whether it would be a 1 p.m. or 4 p.m. start.
Joe would wager a few bucks that new 49ers linebacker Kwon Alexander's knee, surgically repaired in November, won't be ready to face his old teammates.
If accurate, this would be a godsend for the Bucs — a very beatable team on opening day at home for the confidence-hungry Bucs. Maybe Jimmy Garoppolo will even have some rust on him.
The online arm of the Newark Star-Ledger has a full story with the New York Giants' complete schedule, placing them in Tampa for Week 3, a 4:05 p.m. start.
The Week 6 "home game" in England against the Panthers was announced this morning.
Panthers beat writer Joe Person says it's Bucs at Carolina on Thursday Night Football in Week 2.
Panthers have consecutive home games to open season. After Rams in Week 1, Buccaneers in Charlotte for a Thursday night matchup in Week 2, per source.

— Joe Person (@josephperson) April 17, 2019