Bucs' London Game Announced
April 17th, 2019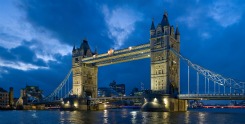 UPDATED: 10:32 a.m. – Well, here is 1/16th — or perhaps 2/17ths — of the NFL scheduling puzzle for the Bucs.
The Bucs will host the Stinking Panthers in London on Sunday, Oct. 13, Week 6 of the schedule, the team announced this morning.
The game will be a 9:30 a.m. kickoff, Tampa time and yes, that's a lost "home game" for the Bucs. That also means you can count on the Buccaneers' bye week in Week 7, as most teams get a week off following the overseas jaunt.
So you now have roughly a six-month warning to stock up on vodka and Bloody Mary mix, or join Joe at a local watch party.
The full schedule is released at 8 p.m. tonight on NFL Network, if it doesn't trickle out sooner.