4 Guys The Bucs Shouldn't Draft
April 17th, 2019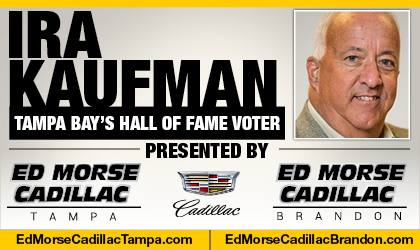 BY IRA KAUFMAN
Let's not get too cute here.
Batting fifth in the NFL draft order, the Bucs shouldn't be pressured into swinging for the fences and risking a big whiff. There have been too many big-time draft busts in Tampa, too many painful memories for Buc fans to stomach.
"You should take the best player," advises Hall of Fame executive Bill Polian. "You might be wrong in the assessment of the player, but as long as you take the best player, your odds of success are very much greater than they would be otherwise."
First, a quick stroll down this franchise's hall of shame.
Remember Charles McRae, a strapping tackle out of Tennessee selected with the seventh pick of the 1991 draft? Mr. McRae came and went without much of an impact, starting 38 games and never playing for a winner in Tampa.
McRae was drafted one year after the Bucs wasted the fourth overall choice on Keith McCants, a linebacker out of Alabama who was converted to defensive end and lasted only three seasons in Tampa.
Who can forget Gaines Adams, the Clemson defensive end who was supposed to spark a revived pass rush? The Bucs grabbed Adams at No. 4 overall in 2007, but he was traded to Chicago midway through the 2009 season and shockingly died the following year due to cardiac arrest at the age of 26.
Then we come to the strange case of Mark Barron, selected as a safety out of Alabama with the seventh overall pick in 2012. Barron was traded in 2014 to the Rams, who made him a useful, $9-million-per-year player by converting him to linebacker. Barron will play inside linebacker for the Steelers this fall.
The top draft bust in franchise history is a no-brainer. In 1986, despite warnings he would not sign with the Bucs, Bo Jackson was chosen No. 1 overall and, true to his word, he spurned Tampa Bay for a baseball career. When we saw him running past or through defenders in silver and black, we knew we were watching someone special.
With those gaffes in mind, here are some potential 2019 busts for the Bucs to think twice about.
Rashan Gary: This defensive lineman out of Michigan has the size and speed to intrigue scouts. What he doesn't have is the kind of production that instills confidence. With only 3.5 sacks and 6.5 tackles for loss last year, there's a real danger that Gary takes too many plays off.
Clelin Ferrell: Part of Clemson's formidable defensive line, Ferrell was surrounded by outstanding talent. His questionable agility and 260-pound frame may prove to be issues at the pro level.
Josh Jacobs: His limited touches in college represent a two-edged sword for this Alabama running back. After only 251 collegiate carries, Jacobs should be fresh, but he registered only one 100-yard game for the Tide and the memory of Trent Richardson looms large.
Montez Sweat: This hulking edge rusher from Mississippi State checks off a lot of boxes and that 4.4 speed is extraordinary, but Sweat is a raw talent who will need to be coached up as a pro. He won't be an impact player unless he significantly improves his pass-rush technique.
What do we know about the Bucs if they remain at No. 5? We know who they're not taking — a quarterback, an offensive lineman, a running back, a cornerback or a safety.
Or a kicker.
Face-slapped
Jason Licht needs to select a perennial Pro Bowl candidate, a player who will earn a second contract at One Buc Place. And yes, he needs to keep an open mind as the board opens up.
"We've got to learn from our past," says Eagles GM Howie Roseman, one of Licht's closest friends in the business. "I've been humbled by some of the mistakes that I've made in terms of valuing certain positions over who's the best particular player. It slaps you right in the face when you go back and look at those drafts.

"You go, 'Hey, we really like this player, different position, but we went into the draft saying we have to get X.' That's why we try to take care of as many needs as we can in free agency and go into the draft saying we don't know what we're going to need a year from now. These guys are long-term players for our team."
Ira Kaufman began covering the NFL as a New York Giants beat writer in 1979. He arrived on the Buccaneers beat in 1985, and the corporate leash finally was removed from his neck when he joined JoeBucsFan.com in July 2016. The award-winning Ira Kaufman Podcast fires twice per week, and Ira's columns appear thrice weekly, except when Ira is on special assignment. Tampa Bay's only Hall of Fame voter also is a popular guest on various national radio and on local TV.