Who Will Take Jacquizz Rodgers And Other Departing Bucs?
March 10th, 2019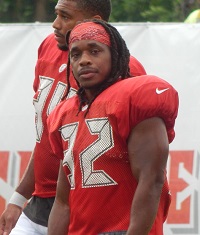 Much more than in past years, Joe is very interested to see where Buccaneers free agents land.
Take running back Jacquizz Rodgers, for example, a favorite of Dirk Koetter and a key Bucs cog for the past three seasons on offense and special teams.
Rodgers is healthy and took a lot of snaps on what general manager Jason Licht says was one of the greatest offenses in NFL history last year. But it's clear that 29-year-old Rodgers will not be retained by Tampa Bay.
Will he land a job? And if not, what does that say?
How about Ryan Fitzpatrick, who proved he's a valuable backup quarterback last season — keyword backup. There have been no indications that Fitzpatrick wants to retires, and Joe has heard rumblings that he's a fit with the Eagles from a football and locker room standpoint. Joe could also see Fitzpatrick as a fit in Miami where they're probably going to have a transitional period at the position and Fitzpatrick appears to be a better mentor/backup type then nearly everyone else out there.
Will any team open the vault for injured Kwon Alexander, or will he come running back for the Bucs' best offer? Will Vinny Curry find a job for even a third of what Jason Licht paid him? What about Bucs fan favorite Chris Conte and I'm-not-paid-enough-for-that Brent Grimes?
Joe loves this time of year.