Moving On From Adam Humphries
March 10th, 2019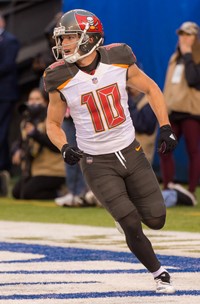 After one source checked in with Joe about the Buccaneers' slot receiver position, Joe called in a favor to another source yesterday.
The verdict is that the Bucs and their most reliable receiver, Adam Humphries, expect to part ways this week.
The market will embrace the fifth-year receiver when the "tampering" window opens tomorrow on prospective free agents. The Bucs love and respect Humphries but Joe was told the team wants to get faster at the slot position and on a secondary note, Bucco Bruce Arians desires an upgrade at punt returner.
But like everything else in the NFL, the Humphries decision is about money — for the Bucs and for Humphries — and how Arians will set priorities within his offense. The Bucs attempted 39 passes per game last season and hope to cut that in the neighborhood of 10 percent while getting more from their tight ends.
What all of this means for DeSean Jackson's future is unclear at this time.
Joe's going to miss undrafted Humphries, formerly known here as "Rudy!" After the wacky situation with good NFL safeties getting shunned by the market last season, Joe can only hope at this point that something freakish like that happens to the slot-receiver market in the next 72 hours and the Bucs get the financial miracle they'll need to bring back Humphries.