Picking Up The Slack
March 11th, 2019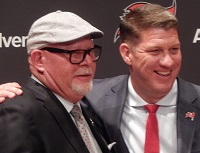 It's a very safe assumption that the Bucs will part with nine touchdowns, 1,590 yards and 117 catches from their 2018 receiving corps.
That's almost like the Steelers losing Antonio Brown.
Of course, Joe's referring to the exit of Adam Humphries, which Joe reported 24 hours ago, and the imminent sterilization of the Tampa Bay locker room with the ousting of malcontent DeSean Jackson.
Perhaps it would comfort Bucs fans to know that Mike Evans and Chris Godwin both ranked in the top-10 of NFL receivers catching first down passes on 3rd-and-7-or-more situations last season. That's damn impressive.
Among Bucs receivers, only Evans was among the top-20 in catching first-down balls on 3rd-and-3-or-less. And only Evans was in the top-20 in total first-down catches on third down.
Last season, the Bucs were the best in the NFC on third down, converting a stunning 46 percent. As Bucco Bruce Arians and Jason Licht purge offensive weapons in the name of saving money and the locker room, it's important to remember that the Bucs spread the ball around quite a bit last year. Humphries and Jackson were quality pieces, but they were just pieces. They're not Mike Evans and their production can be replaced, and be made less necessary in a more balanced offense.
And Joe can promise you that in the walls of One Buc Palace, one of Bucco Bruce Arians' major goals is a more balanced offense.
Every single year teams find receivers off the street or out of nowhere to catch 50 balls and five touchdowns, and be reliable for mid-range or less salaries. This year, it's the Bucs' turn.