The Bucs And Pierre Desir
February 20th, 2019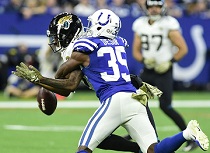 Joe would understand if the Bucs brass wants to see what its stable of young cornerbacks does with competent defensive backs coaching and more experience.
Last year, the Bucs entered the season needing somebody to emerge as special among cornerbacks Vernon Hargreaves, Ryan Smith and rookies Carlton David and M.J. Stewart.
It didn't happen.
Heck, even Brent Grimes let them down. His "whole vibe" was screwed up before he even played a regular season snap!
Yes, the Bucs are hurting at cornerback whether they want to believe it or not.
Enter Pierre Desire who turns 29 in September. He was the surprise of the 2018 Colts defense and the journeyman will be a free agent if he's not locked up before the free agency dinner bell rings in three short weeks.
Scouting godfather and new Hall of Famer Gil Brandt, writing for NFL.com, labeled Desir as the fifth best cornerback available this offseason in the draft or free agency. That's high praise.
Pierre Desir, free agent: … … Desir started almost as many games last season (12) as he did in his first four NFL seasons (13), with the Browns, Chargers and Colts. He also recorded 79 tackles, which nearly matched his career total entering 2018 (81), and, perhaps more importantly, proved he could hold his own against some of the NFL's top wideouts. Consider the work he did on Texans receiver DeAndre Hopkins, who was limited to nine catches for 73 yards in Indianapolis' wins over Houston last December and in the playoffs.
Desir is an interesting wild card for the Bucs because of his age, limited wear on his tires and being a bit of a one-year wonder who now has playoff experience. He won't command a fortune, and he might be better than every cornerback on the Tampa Bay roster.
Desir is a guy who could really test the evaluation skills of Jason Licht's pro personnel department.
Could Desir play in Todd Bowles' blitz-happy defense? What's his market value? What's he like in the locker room? On paper, Desir looks like an affordable veteran the Bucs need, much like Morris Claiborne.