The Wrong Splash
February 20th, 2019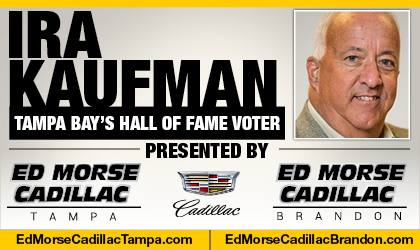 BY IRA KAUFMAN
Let's put this one to bed from the start. He ain't coming.
Antonio Brown is one heck of a football player. If you're inclined to brand him the premier wide receiver in the league, I wouldn't argue with you.
But he doesn't belong anywhere near the Tampa Bay Buccaneers.
Is Brown available in a trade? Absolutely. He wants out of Pittsburgh and many members of Steeler Nation can't wait to hold open the locker room door for a guy with six consecutive 100-catch seasons.
Brown will be moved within the next few months and this is a legitimate difference-maker, a player you must account for in your defensive game plan every week.
Still, the Bucs should pass, even if the compensation is relatively meager.
When Bruce Arians drew up a list of Tampa Bay priorities heading into free agency and the draft, wide receiver was probably the last position group on his list. Mike Evans is a Pro Bowler, Chris Godwin is a talented young player on the rise and the Bucs have the resources and the will to retain Adam Humphries.
Add in O.J. Howard and Cameron Brate and it's clear Jameis Winston doesn't lack big-time targets.
Arians has already described Brown as a diva and the Bucs don't need another DeSean Jackson on their hands Besides, Evans had a better 2018 than Brown.
Believe me I know, because Brown was my first pick in fantasy football. Yes, he scored 15 touchdowns, but he also had eight games with less than 75 yards. Evans had five. Brown posted five 100-yard games, Evans had eight.
Brown won't come out and say it, but he couldn't handle the ascension of JuJu Smith-Schuster as Ben Roethlisberger's new go-to receiver. Brown was targeted 168 times last year, two more than Smith-Schuster, but Brown finished with seven less receptions and 129 fewer yards.
Brown will turn 31 by training camp. He's got plenty of good football left and his training regimen is impressive.
"I've told all of our receivers, if you get a chance to watch him practice, you'll see what unlocks the greatness in him," says Jon Gruden. "He's the hardest working man, I think, in football. Hardest-working player I've ever seen practice. I've seen Jerry Rice, I've seen a lot of good ones, but I put Antonio Brown at the top. If there are any young wideouts out there, I'd go watch him practice. You figure out yourself why he's such a good player."
Too Weak
Jason Licht and Arians need to be smart about this.
If Brown ends up on the Patriots and he hoists the Vince Lombardi Trophy in Miami, so be it. New England has the veteran leadership to handle Brown's personality.
The Bucs couldn't even handle Swaggy Baker.
Just because Brown is available in trade doesn't mean the Bucs should kick the tires. He makes zero sense for this franchise at this time.
Buc fans have spoken on this growing website and their message is clear — focus on the offensive line, running back and cornerback.
Unless Brown wants to shadow Julio Jones or Michael Thomas, move on.
Brown is going to be a steal for the right team at the right price. That team is not this team. This team needs to address issues in the trenches.
This team needs to build better chemistry and you don't do that by adding an unstable element.
Trading for Brown would be an ill-advised splash move for a franchise with major needs elsewhere. Let Brown take his talents to South Beach or Foxborough.
Winston will understand.
Ira Kaufman began covering the NFL as a New York Giants beat writer in 1979. He arrived on the Buccaneers beat in 1985. The corporate leash was removed from his neck when he joined JoeBucsFan.com in July 2016. The award-winning Ira Kaufman Podcast fires twice per week, and Ira's columns appear thrice weekly, except when Ira is on special assignment. Tampa Bay's only Hall of Fame voter also is a popular guest on various national radio and on local TV. All his work at JoeBucsFan is presented by Ed Morse Cadillac Tampa and Ed Morse Cadillac Brandon.