When Will Team Glazer & Ronde Barber Get Political?
January 4th, 2019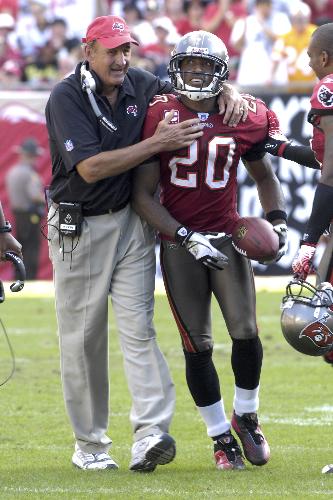 If it wasn't obvious last year when Ronde Barber didn't make the final-15 cut to be presented for an enshrinement vote in the Pro Football Hall of Fame, it should be obvious now as Barber missed the cut again today.
Making the finalists list is a highly political process — no surprise for a subjective vote by 48 panelists across the United States.
Joe believes it's time for Team Glazer to embrace the politics and write a check to help make it happen for Barber.
Anything less says, 'We don't care enough.'
No, Joe isn't suggesting wiring cash to voters, but Team Glazer should pay for Tampa Bay's only Hall of Fame voter, JoeBucsFan.com columnist Ira Kaufman, to travel the country to lobby most of the 47-other voters face-to-face like only he can.
An iconic schmoozer, Kaufman making a short pitch for Barber over a sandwich at a playoff game or training camp practice or at league events, for example, would make a significant difference. Joe knows personally that Kaufman commands a lot of respect among Hall voters.
Joe is confident that's what it will take to get Barber to the next level in the Hall process.
In fact, Joe advised Bucs management of this personally two years ago, but Joe's words apparently weren't taken seriously.
And here we are, a Bucs cornerback who truly had a historic career is being shortchanged by the Hall panel.
Some of this is on Barber, too, he has stated publicly that he doesn't want to be a guy who campaigns for himself. Fair enough, but that doesn't mean Barber shouldn't be making an effort to be engaging voters personally.
A media member himself, was Barber shaking hands and hanging out at the spring NFL Owners Meetings last year in Orlando where many voters were assembled? Nope.
Is Barber, who travels to games every week as a FOX analyst, making an effort to say hello to Hall voters attending each game he calls? Nope. Is he having anyone work the voters for him in that way? Nope.
As the years march on, more and more quality Hall candidates like Barber will miss the cut. So the list of realistic potential Hall of Famers will grow, which means the political and subjective nature of the process will mushroom.
There's even more the Bucs could do to help Barber, as well as John Lynch, a finalist again this year, and Simeon Rice, who tumbled from the semifinalist ranks this year.
Hopefully, the powers at One Buc Palace will make a coordinated and aggressive full-court press to help their Bucs legends get their due next year. Otherwise, a famous Todd Monken line might become appropriate.