Brent Grimes: I Was Benched For Using My Phone At Halftime
January 3rd, 2019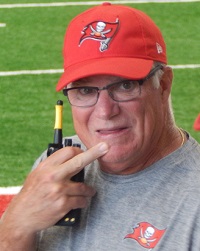 Remember when Brent Grimes didn't play in the second half against the Bears in Week 4?
Dirk Koetter told everyone it was to get Ryan Smith some reps.
Grimes believes it was for a reason far more ridiculous.
Speaking on his wife's iHeartMiko podcast, Grimes explained he was in disbelief when he was benched and Mike Smith never gave him a reason why it happened.
But somebody on the coaching staff did.
"They said [I was benched because] I was on my phone at halftime, which is true because I'm on my phone [at halftime] every game of my career," Grimes said.
Grimes estimated up to 70 percent of players are on their phones doing something at halftime, which he thinks is no big deal and certainly not a reason to be benched.
Why does Grimes really think he was benched? When Miko Grimes suggested on the podcast it was payback for not wanting to shadow Antonio Brown the week before, he agreed.
You can read about Shadowgate here.
What a freakin' mess the Bucs were this season. Shame on Koetter for not clearing the air with Grimes on these matters. and yeah, if you click the link above, Joe wags a big finger at Grimes and Jason Licht, too.