Remembering A Chat With Bruce Arians About Jason Licht
January 6th, 2019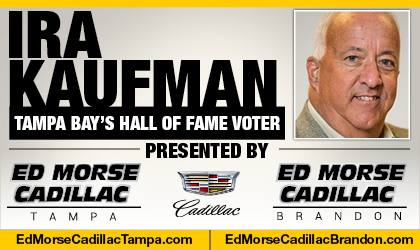 BY IRA KAUFMAN
Why him? Why now?
This isn't rocket science. Bruce Arians checks a few boxes for the Buccaneers.
Huge boxes.
The 2-time NFL Coach of the Year has emerged as the leading candidate to replace Dirk Koetter, with a coaching announcement expected early this week. Arians boasts a winning exacta — he's an unabashed advocate for Jameis Winston and he knows how to work with Jason Licht.
At the 2016 owners meetings in Boca Raton, I asked Arians for his thoughts on Licht, who had been empowered by the Glazers to hire Koetter only two months earlier. Licht and Arians worked together in Arizona during the 2013 season, when the Cardinals vaulted from 5-11 to 10-6 immediately after hiring Arians.
"Jason knows how to put a roster together," said Arians, who interviewed with the Bucs on Saturday. "We had a great relationship in Arizona. You don't always agree, but you get along and you make decisions for the team. Other teams might not have a player that high on the board — we don't care. They fit us. You draft for your coach and your team, no matter what anyone else's grades are. That's why Jason will succeed in Tampa."
Not quite yet.
When Licht survived Koetter's dismissal, he assured Buc fans that Winston will return in 2019 for a fifth year in Tampa. It's fair to assume any credible candidate for the Bucs coaching vacancy must embrace Winston — and Arians is already on board.
"He would be fun to coach, there's no doubt about it," said Arians, who first met Winston during a football camp he ran with his son in Birmingham, Ala. "He's a winner and a great leader, and obviously a heck of a young quarterback."
Arians inherited an Arizona club that finished last in total offense and 31st in scoring offense. He promptly went 34-14 in his first three years in the desert and by 2015, the Cardinals boasted the NFL's top offense, with Carson Palmer leading the league in yards per passing attempt.
"As a head coach or an offensive coordinator, you're tied to that guy (quarterback)," Arians said. "Your future is him. You better realize that, and you better have a heck of a strong relationship, so that when it's really tough in the game, he's telling you what he's seeing, not what he thinks you might want to hear."
Licht was named Bucs GM in 2014, joining Lovie Smith in a failed effort to remake Tampa Bay's fortunes. In 2016, I asked Licht what he learned during his one year in Arizona's personnel department working with Arians.
"It was a collective process, everybody on the same page," Licht said. "Being bold, not being afraid of risks, not being afraid to do something out of the ordinary."
When Arians wrote a book a few years ago, he titled it,  "The Quarterback Whisperer: How to Build an Elite NFL Quarterback."
Looks like he'll need a few new chapters.
---
Derrick Brooks Talks Fan Frustration, Changing Coaches, Purge With A Plan & Patience?, And More
More TAMPA TWO with Buccaneers legend Derrick Brooks and Hall of Fame voter Ira Kaufman. Everyone loves this great show from The Identity Tampa Bay and JoeBucsFan.com, presented by Caldeco Air Conditioning & Heating.
Enjoy!