Bucs Say Kris Richard Interview Is Complete
January 6th, 2019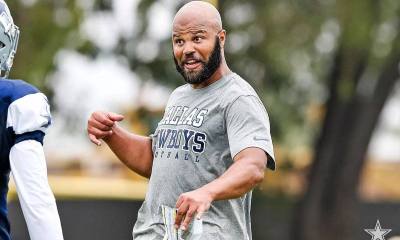 Our beloved Buccaneers completed a fourth head-coaching interview today.
At least that's the total made public.
As expected, Cowboys defensive playcaller Kris Richard was grilled by Bucs representatives, presumably Jason Licht and Team Glazer.
Chiefs offensive coordinator Eric Bieniemy, Vikings defensive coordinator George Edwards and two-time NFL Coach of the Year Bruce Arians also have been interviewed by the Bucs.
No other interviews are rumored or reported to be planned.
As Joe reported Friday afternoon, the Bucs plan is to announce their 12th head coach no later than Tuesday. Arians is the choice, but he's not the choice until he signs a contract.
What a wild situation it would be if the high-energy, highly-regarded Richard wowed the Bucs brass and led them to an emergency all-nighter on who to choose. Yes, there is a timetable here for the Bucs. They want to be swift and diligent, not get screwed like they did by Chip Kelly back in 2012.
We have completed an interview with Cowboys Passing Game Coordinator & Defensive Backs Coach Kris Richard for our head coach position.#GoBucshttps://t.co/Gc0PEcUFwd

— Tampa Bay Buccaneers (@Buccaneers) January 6, 2019