Interesting Pronoun Elimination By Dirk Koetter
December 13th, 2018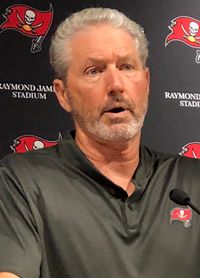 It was all "we," "we," "we," yesterday when Dirk Koetter was talking about his current team.
And that changed when the head coach starting talking about 2019.
In the moment it sure felt to Joe like Koetter was subtly expressing that he doesn't expect to be with Tampa Bay next season.
At the close of Koetter's Wednesday news conference, he was asked about the new announcement that the Bucs would play a home game at a venue out of the country in 2019.
Koetter said those overseas games are usually enjoyed by players. And when he referenced next year, he dropped the "we" pronoun and actually referred to the team as "The Bucs." Joe can't remember Koetter ever doing that.
"For right now, you know, we're trying to focus on Baltimore," Koetter said. "We got our hands full with Baltimore. That's something that's going to happen in the future. And when the Bucs get to that point in the season next year, I'm sure it will be good."
Yes, Joe realizes this is a simple subtlety in Koetter's choice of language, but Joe finds it to be a notable shift in Koetter's delivery. Perhaps Koetter already knows he'll be fired?